Wellness Inspired Gift Idea: Chalkboard Potted Plants & Herbs
|
The end of the school year is an exciting and busy time. It also is the time for letting teachers know how much they are appreciated. We have been so fortunate to have wonderful, loving teachers.
Last year, I wrote about one of our favorite teachers and the love she brought into her classroom. She retired last year, but her inspiration continues on through her former students (who talk about her often!)
Gift cards are my go-to gift and I'm sure they are appreciated, but I been trying out different wellness inspired gift ideas.
Last year, we gave Lifefactory Glass Beverage Bottles, my favorite water bottles!
For Christmas, we made a sugar scrub. This was really easy and fun to make.  It only had 3 ingredients: sugar, almond oil, and lavender. It was also the perfect gift for the kids to help with. The teachers enjoyed and we kept a batch for ourselves to use, as well!
This year, I was really excited when I came across this idea for chalkboard terra cotta pots  and agreed it was a perfect teacher gift!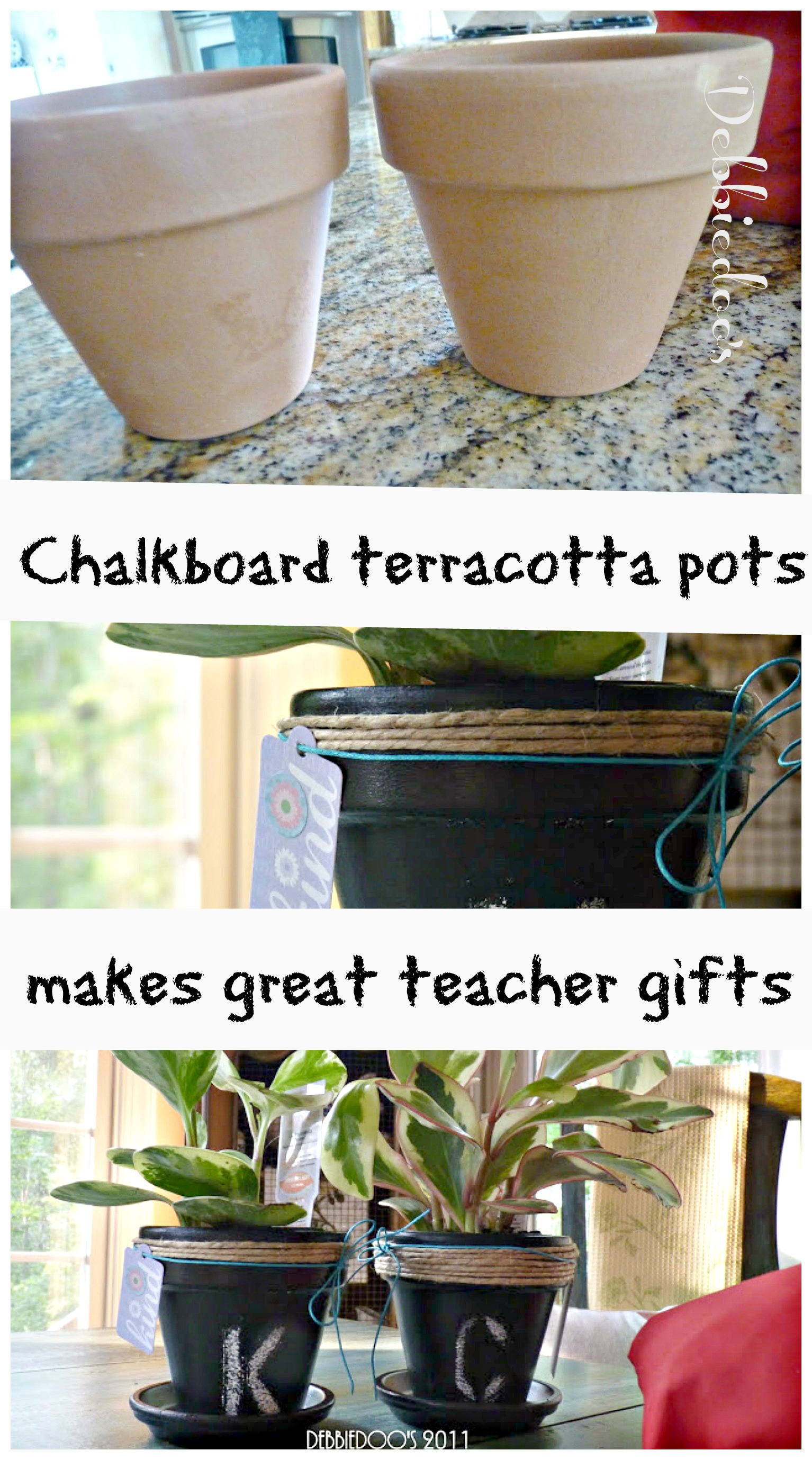 The kids painted terra cotta pots with chalkboard paint.  We decided to add herbs instead of plants. I used a thai basil, lime basil and parsley that I picked up from the Farmer's Market.
Instead of the teacher initial (like the above example), I wrote the name of the herb.
The herbs can stay in the pot by a sunny window indoors, move outdoors in the pot or transfer to the garden or another outdoor pot. Even if you don't have a garden, growing herbs in pots is simple. I moved my herbs to pots this year to make more room in the garden. Here are some tips for growing herbs and specifically potted herbs.
Also check out my Gardening Board on Pinterest for more ideas and tips.
The best part about the chalkboard paint is that you can erase and write your own personal message!
Caitlin (my 4-year-old) painted this pot (I love the pink touch!) and we added a "Be Happy" message. It has an indoor plant and sits by the kitchen sink for a positive reminder throughout the day.
Plants and herbs are a great gift no matter what the occasion and chalkboard paint is the perfect way to add a little personalization!
Do you have any other great wellness inspired gift ideas to share?  Favorite teacher gifts? What about tips for growing herbs in the garden or pots?
Love,
Molly