Finding Your Happy Place(s)
|
In the midst of chaos, stress or change (or all 3 together as I have had these past few months!), I find it helpful to step back and get to one of my happy places. There are certain places that I always feel at peace. Since our moves over the past 10 years, I have really relied on these places to bring me comfort in the midst of change.
We all have at least one place that we can escape to that immediately brings us peace.  I'm guessing that I'm not alone with the beach and ocean being my number one spot.  The tranquility that comes along with the sounds of the ocean is immediately healing to me. Add the sunshine, a few clouds, the perfect temperature and a nice breeze and I'm in heaven.
And you can't beat sunrise on the beach…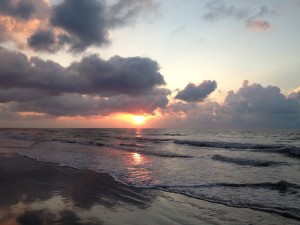 Throw in a football and my 8-year-old is really in heaven…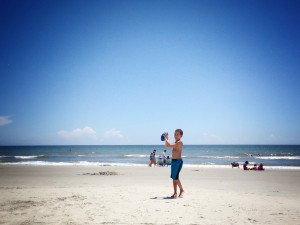 I love being around any water. It is so relaxing. I can credit the fact that it brings so many happy memories and feelings of peace to my parents. We grew up going to the ocean every year and had a lake house that I spent the majority of my childhood.
Sanibel Island, Florida was the place we went most years for spring break.  It was also where my mom died while listening to the ocean, her happy place, at the same condo we went to for years.
Since I can't go to the ocean every day (although I am now within driving distance!), I have an ocean app on my phone that I break out when feeling stressed or I have trouble sleeping. I also put on the ocean waves on the baby's sound machine – probably more for me than her

Nature, Trails and Parks
I love being in nature. With the craziness that goes along with life, it brings an instant sense of calmness to me.  If you have kids you know that being outside is so great for them, as well. In fact, Nature Mom even has a blog dedicated to just that. She captures images of natural beauty, shares her family adventure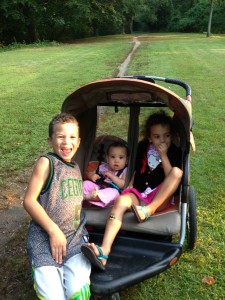 s and has great tips for outdoor family fun.
I love running or walking in trails, so finding paths brings me happiness. Within a few days of our move to Boston, we found a trail and were enjoying nature. With a house full of boxes, we were all excited to escape for a short time!
Since then we have found many other trails and parks to enjoy. It is key to our well-being! In fact, just the other day when my husband was out-of-town, I was feeling a little on edge after school. In an attempt to prevent any bad parenting moves, I called a friend and we went on a hike with the kids. It was a perfect mood lifter and stress reliever – friends, exercise and nature!
Basketball Court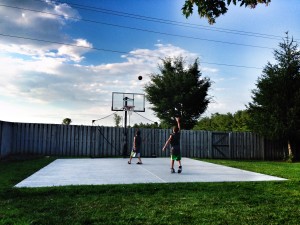 My favorite sport is basketball. I grew up loving the game. I spent many hours playing in my backyard and in various gyms. So marrying a basketball coach worked out because the instant I step foot in a gym, I feel a sense of peace. My boys share the love of basketball and I have already spent many hours watching them play.  I'm pretty confident my daughter is going to be a cheerleader (see evidence below – no pom poms, no problem, just use leaves instead to cheer on her brother!) so my hours in gyms will probably only be increasing over the years!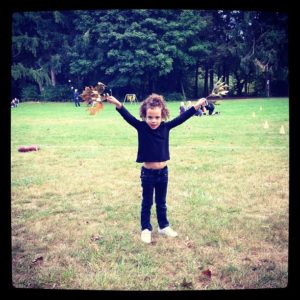 Coffee Shop
I'm mentioned before my love of coffee, but I love the atmosphere of coffee shops even more. I'll admit I frequent Starbucks often, but there is nothing better than a small, local coffee shop.
Bookstore or Library
If you can pair a great local bookstore with local coffee, it will be hard to get me out of there! Books are a great when you want to escape, or feel uplifted, or cry, or improve your mental health. I love a good book. I am guilty of having stacks on my bedside because I get excited and want to read multiple books at once – depending on my mood.  When I walk into a bookstore or library, I feel like a kid in a candy store!
Right after we moved one of my best friends texted me and asked if I had found my closest grocery and Target. Of course, I had. Target was one of the first places I went!  A new mom was joking recently about it being the first place she went with the baby & I am pretty sure it was the first place I went with all 4 of my babies. Love that place, especially because there is a Starbucks inside!  Target is not by any means, the ocean, but no matter where I am, I can walk in and feel a little bit of home and leave with a small sense of accomplishment!
Don't let those places that bring you happiness and peace go unnoticed. Remember to find your happy place and frequent as often as you can, especially in times of stress, change and chaos!!

Where are your happy places?
Love,
Molly