Elf on the Shelf: Happy, Positive Tradition or Not?
|
Yesterday morning our 6-year-old came in asking why our elves didn't move.
Ugh. Day 4 and we had already forgotten.
We started the Elf on the Shelf tradition 2 years ago when an elf, the kids named Jay, showed up in a box on our door step.
This year our 4-year-old daughter had been asking why we didn't have a girl elf. Since we just moved and now have 4 kids, I got the brilliant idea that Jay should bring a girl with him to Boston this year.
Welcome Penny.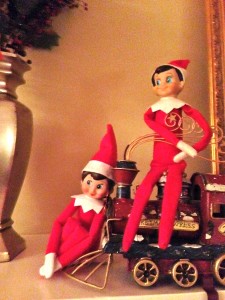 The kids were very excited that Jay found us and brought a girl with him.
But then after they didn't move, the questions started coming in.
My 6-year-old wasn't worried one bit. A girl in his class said that "one day the elf will move and another day he won't and another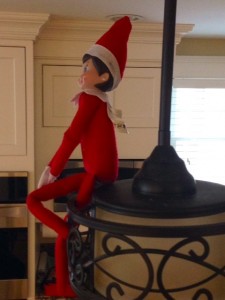 he will."
Thank God for other slacker real parents.
My husband said they had good spots and must not have wanted to move. That made sense to them.
While the boys were at school my 4-year old noticed that Penny has a tag on. "She must be fake! Penny is not real!" I assured her it was just the tag on her clothes, but she was not satisfied with that answer.
When the boys got home, she immediately pointed out the tag to them and told them she wasn't real. My 3rd grader asked why we were lying to them. "What kind of parents are you?!"
Hopefully, he was joking. But, it made me wonder, "At what point does it cross the line from being fun and magical to deceitful?"
Last year, in 2nd grade, he asked me if the Tooth Fairy and Easter Bunny were real. I told him the truth. I had read that when they ask you straight up, you should tell them the truth. Maybe not to a 4-year-old, but definitely with a 7-year-old.
He later questioned Santa, but didn't directly ask me if he was real.  He just said  "You and Daddy must be Santa because you think it's too expensive to buy, " when I told him Santa was NOT going to bring him an i-Pod touch. Although, intellectually and logically, I'm pretty sure he knows there is no Santa,  he still wants to believe the fantasy.
He is almost 9 now, so after his reaction about the elves yesterday, it sounds like we are up for another honest discussion. Hopefully he will help continue the fun tradition with his 3 younger siblings…and wait one more year to ask me if Santa is real! I'm not ready for that one, yet.
But for my 4 & 6 year olds, they are still enthralled with the magic of Christmas. They get so excited waking up each morning to see where Jay & Penny have landed (when we remember!) And the baby hasn't even begun to experience any of it! I love the excitement they have for 3 weeks and it is a fun family tradition for us.
I also LOVE looking at other people's creative, funny, crazy and inappropriate ideas (including my husband's once in a while.) I know I won't come up with anything that creative, so it's great to see what my friends' elves are up to!
There are parents who HATE the Elf on the Shelf. The stress of moving it…seriously all we need is one more thing to do this holiday season! Feeling bad or getting questioned when you forget or don't come up with anything creative.  Thinking elves are really creepy among other reasons the little elf is not liked.
Other parents swear by using the elf at every moment to get good behavior out of their kids from Thanksgiving to Christmas. And it usually works. "Jay & Penny are watching," flows very smoothly out of our mouths, but really it isn't a very good message to send. Do you think?
We don't want our kids only to be "good" for a month, so they won't be on the naughty list and can get lots of presents from Santa.  Giving and receiving gifts should be because of love, not whether we behaved or not. We want to focus on the positive spirit of the holidays and the importance of giving, not just Christmas being all about what toys Santa is going to bring them if they behave.
The Elf on the Shelf is definitely a fun, happy and positive tradition in our house. But, it isn't for everyone. And I think you have to be really cautious on the message you send with this little elf.
Do tell ….what are you thoughts on the Elf on the Shelf?
Love,
Molly