Embracing Your Inner Scrooge: Positivity & The Holidays
|
Whether you love or hate the holidays, this time of year can elicit a range of emotions.
My holiday emotions started before Thanksgiving when my sister shared this card she found that was perfect for our mom.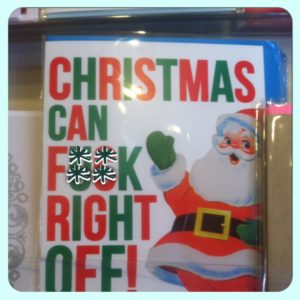 We got a great laugh out of it because she was a total Scrooge. She passed away almost 14 years ago, but we still joke every year about how much she hated Christmas.  This year I started wondering more about when & why she started disliking the holidays so much.
My dad thought it started when she suffered from depression, which would make sense. If you have any doubts about how horrible the holidays can be when you are clinically depressed, read this first hand account (which also has positive tips!).
My mom's depression came after a flurry of stressful life events. She was diagnosed with breast cancer, two of her brothers committed suicide and her dad died unexpectedly. All as she was running her own property management company, raising 3 girls under 10, trying to maintain a positive marriage and being the rock for her other 7 siblings that were still alive.
Just thinking of those flurry of life events, which happened when my Mom was 40, makes me want to go into a deep depression. Not to mention she had lost her own mother 4 years earlier. But, from what I have been told, she handled it pretty well until she had trouble with her thyroid as a result of the chemo, which triggered the depression.
Bah Humbug.
As a result of coming out of her deep depression and darkness, she actually wrote a book
on "how to create positive life change through prayer, meditation, inner guidance and loving action."
And in her book, I found out that her dislike of Christmas began long before her depression. It started in her childhood. A childhood that was chaotic, to say the least. She was the 2nd oldest of 10 kids within 16 years.  Her strict catholic (e.g. no birth control!) and dysfunctional upbringing led to her to deteriorating faith at a young age.  She wrote "More than once Dad was not at home Christmas morning."
The first Christmas after she and my dad bought their first house, at age 28, her mom said, "It's your turn now, Mums. I officially hand the reins over to you, I can't do this anymore." At that point, Christmas wasn't the only responsibility she had to take over for her 9 siblings, it was most of the maternal responsibilities. It's no wonder it took my dad 6 years of talking Mom into having kids of her own.
So, it is completely understandable why my mom hated Christmas.  But, I think, whether you love or hate the holidays, we all have an inner Scrooge. 
Mine came out last weekend for no apparent reason. Maybe I was just missing my mom. Or it may have been the holiday stress of everyone else rubbing off. Maybe it was because I was anticipating traveling home for the holidays and the packed schedule I have planned for us. Or maybe thinking about how strange it's going to be without my grandpa, who recently passed away. It might have been the fact that I didn't have a picture for our Christmas card or  just the snow that was becoming a pain in our butt.
Whatever the reason, I was being a total Scrooge and wanted to stay like that all day! Until I had this feeling of deja vu. And I remembered, in fact, I did have these same feelings 3 years ago and wrote about them. Reason I Could Be Scrooge This Year….
It made me laugh and snap out of it. It also made me think about how much my attitude changed from  our text exchange about the card for my mom  in November until now. That's me in the blue text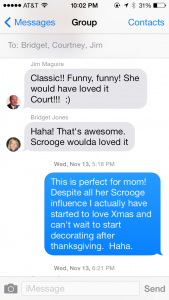 No matter how positive you want to be, it is easy for the holidays to suck it out of you and let your inner Scrooge come out.
Whether you…
have pent-up emotions and feelings from childhood
are so sad missing a deceased loved one
let your type-A tendencies make you super crazy perfectionist on your gifts, hosting, cards, etc.
don't have money to buy gifts for everyone you want to
are dreading your typical family dynamics
don't want to decorate
are driving yourself insane trying to find the perfect gift for everyone
can't figure out what appetizer to bring
can't stand the crowds shopping
want to gag listening to holiday music
don't want to go to all of the parties you were invited to
are sad because you can't be with your family for the holidays
etc. etc.
Whatever your reason, there are solutions! The holidays can be a happy, positive time of year!
Most of the stressors mentioned above can be eliminated by…
1) Acknowledging & embracing your inner Scrooge. It's totally natural to have periods of Scroogeness, but it doesn't have to be that way. Acknowledge when it comes out and figure out what you need to do to bring the positivity and relaxed spirit back!
2) Changing anything that is causing you stress. Stressors usually cause the Scrooge to come out. Once you figure out what your stressors are, make changes to eliminate them! i.e. shop online instead of the stores; skip sending out the cards or decorating; say NO to the parties you don't want to go to; bring store bought instead of  homemade food to parties; give homemade gifts instead of expensive ones, etc.
3) Giving lots of love and positivity! If you are feeling bad, get away from your self-pity and spread love elsewhere! It works every time.
For more great tips…
10 Simple Ways to Create a Happy Minimalist Holiday (This is my favorite! Great suggestions!!)
5 Ways to Win the Holidays & Say No to Stress
How to Stay Positive When the Holidays are Hard
Enhancing Positivity During the Holiday Season
Happy Holidays!!

Love,
Molly