Winter of Wellness – Ready for a life of optimum wellness?
|
Last winter, during my year dedicated to love, I came across a free wellness online summit – The Winter of Wellness. It was 60 days of inspirational talks from 40 of the world's top holistic experts.
It really helped me explore holistic wellness in a new light and bring my life to another, wonderful level!  It seems that when you are ready, things you need to help live your best life appear right in front of you.
Starting TODAY, they are offering this free online summit again this year!
In case now is the time for you, I wanted to invite you to join The Shift Network's summit  taking place today through March 20!
You can listen and learn from 40 of the world's top holistic experts who will be sharing secrets for full-spectrum health, increased energy… and a vibrancy that shines from the inside out!
With the Winter of Wellness series, you'll discover insights and practices that will awaken, inspire and empower you to step into the highest and best expression of your true nature.
One of the things that makes this summit practical is that you have 48 hours after the live broadcast to download and listen to the sessions on your own time. You can also pick and choose which ones interest you.
Last year, in my quest for embracing the winter, I downloaded the talks and would walk outside and listen to them. They were 1 hour-long and very inspiring, so I ended up really looked forward walking in the cold instead of dreading it!
I'm signed up again this year and am looking forward to listening and learning.
If you decide to check it out, you can register for free here: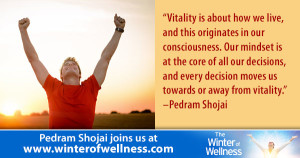 I have no affiliation with The Shift Network, but I love what they have to offer and wanted to share! Let me know if you decide to join!
Love,
Molly