Learning to Be Present & Other Life Lessons of March Madness
|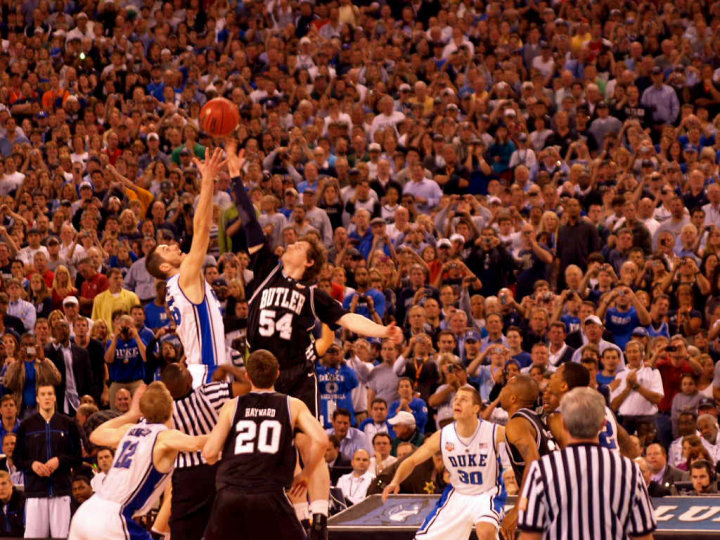 It's March Madness….such a fun time of the year!
It is my husband's second season out of coaching college basketball, so we are experiencing March Madness watching the NBA regular season and cheering for the Celtics as they work hard to try to get a spot in the NBA Playoffs! We are also enjoying watching the NCAA Tourney from home, without the feelings of disappointment of not making the tourney (b/c that stinks!)
Since Selection Sunday, I have been really excited for our friends, and all the teams, that are playing in the tourney this year. It brings back great memories of our amazing years of NCAA tourney time. Nothing compares to ending your season playing (and especially winning) in the tournament!
I also have deep empathy for the friends who had disappointing seasons, the coaches that have a fear of getting fired (or already have been let go), and the ones experiencing their first season of not coaching basketball.
Basketball is fun and games to most people, but to the coaches, players and families, it is life.

My memories of March Madness were of the games, but also of learning and growth. I will always cherish the experience, but I am forever grateful for the life lessons I gained.
The biggest lessons started with the 2010 tournament that ended with a heart-breaker lost to Duke in our hometown in the National Championship Game. As I re-watched this "looking back" video the NCAA did last year, I still find myself with tears in my eyes, 5 years later.
The loss was devastating, but it wasn't the pain from that final game or even the amazing memories of the tournament run that stand out.
Instead, I remember sitting in a cafe with two other assistant coach's wives in Salt Lake City before we played in the Sweet Sixteen and voicing my fear….what happens if we keep winning?! I secretly (which I happened to admit out loud) wanted to lose so it would decrease our chances for change.
I know it sounds completely ridiculous, especially because it was the beginning of what some call  The Greatest Story in College Basketball History!
In college coaching, success often equals change.  Losing often equals change, as well.  Win or lose, especially as the season comes to a close, it's easy to constantly be thinking about the "what if's?"
I spent a crazy amount of time worrying about what could happen.  Many hours were focused on the fear of the unknown and little time was spent living in the moment. My mind was constantly thinking about all of the different possibilities of change, leaving my family and friends, and the stressful logistics of a move. Although, I appeared pretty composed (at least I think!), my stomach was in constant knots.
I tried to enjoy each moment of travel with our 3 little kids & 5 others coach's kids (all under 5!!), but that was crazy in itself! Each (very close) game, I wanted to puke. It was so easy to jump ahead to the outcome (If we lose, tourney time is done, we fly home and then what?! If we win, we stay another day, which is good, but 2 more days in the hotel with the kids, yikes, and if we keep winning, does this keep increasing our chances of change?!), than to enjoy each possession.
At the time, I would NEVER predict that we would not only make it to the National Championship game, but nothing would change with our staff (like I feared) AND we would have a second chance to win the National Championship the next season.
After our loss to Duke, I had good reason to believe it was a once-in-a-lifetime opportunity. There had NEVER been a team who wasn't a #1 or #2 seed that had reached consecutive final fours. Ever.
Until Butler in 2011.
That year, the team was hopeful, but realistic going into the season. There was a point in February when they were really struggling. After a loss to the worst team in the league, when everyone was turning on them (maybe even an unsupportive coach's wife, eek), they came together and decided they wouldn't lose again. They didn't, until the National Championship game.
Even though they lost again (major devastation) they made history and impacted many lives, including mine. I am forever grateful for that group of Bulldogs.
After those two seasons, I have vowed to let go of the things that were out of my control.
I have remembered that although something seems impossible or has never been done before, anything is possible! Especially, if you have confidence and are surrounded by people who also believe.
I knew that I had to figure out a way  to reduce the worry, stress and anxiety in my life and truly enjoy the moment. I promised to try to be present for all of the moments in my life, especially the crazy ones. I am thankful, even though it took a few years, to have found mindfulness and been able incorporate it into my life.
I knew I had to stop worrying about the future. Letting go of fear of the unknown can be empowering, but for a coach's wife, staying present is a necessary survival tool.
I am especially grateful that I learned those lessons before my husband's next two moves. And, after this last move to the NBA, which we never in a million years would have predicted, I surrender with joy. I am done worrying about the unpredictable future and promise to be fully present.
Phil Jackson sums up the beauty of life, basketball and presence best in his book Sacred Hoops: Spiritual Lessons of a Hardwood Warrior
"In basketball – as in life – true joy comes from being fully present in each and every moment, not just when things are going your way. Of course, it's no accident that things are more likely to go your way when you stop worrying about whether you're going to win or lose and focus your full attention on what's happening right this moment."

"Like life, basketball is messy and unpredictable. It has its way with you, no matter how hard you try to control it. The trick is to experience each moment with a clear mind and open heart. When you do that, the game – and life – will take care of itself."
Love, gratitude and presence,
Molly