15 Years Later: New Insights from My Mom's Life and Death
|
A few weeks ago, the day before my parent's anniversary March 27, I was talking to my dad about how nostalgic we get this time of year with the anniversary of Mom's death April 2 and her birthday April 15. It's a flurry of reminders of her.
I've let go of expectations of how I should feel around this time of year and just let it be. Happens to be…I think of her often.
As time goes on, the deep sadness of missing her has turned into relating to her and learning from both her wisdom and her mistakes.
I'm approaching the age when her deep depression began after a wave of tough events…a diagnosis of breast cancer, the death of her parents and loss of her 2 brothers to suicide, while raising 3 little girls and running a successful real estate and roofing company.
She detailed this depression, as well as her spiritual journey out of the darkness in her book, We Are The Miracle
, which I refer to regularly. I also found her original manual that has some content that was not in her book that brings clarity.
Since she can't be here physically, I hold onto to whatever presence of hers I can.  I am grateful to have my Dad to lean on and for constant love and support, but sometimes, even after years, it is just really hard not having a mother around. So, I go back to her words and her life experiences in loving, remembering and honoring her. Lately, I've clung to these messages.

Connection is key – with the right people
"I'm not a pessimistic person, or at least I didn't used to be, but years of isolation have allowed negativity to become second nature to me. Isolation, loneliness, and lack of interaction with other people are a feeding ground for negativity and personal demise. Being alone is unnatural, for we are social beings meant to be together to enjoy and help one another."
I found this statement in an original draft of her book that didn't make publication. It helped explain what I felt for so many years growing up and experienced as an adult. Isolation can be devastating. 
It was the times that Mom cut off connection from her family and friends, even after her book was published, that felt so wrong. She was trying to protect herself, I think, but I know for certain it didn't help.
Having support and a sense of connection is key, but it isn't just about being around people. You can be in a room full of people and feel completely alone. Feeling alone is the worst.
Even in your darkest times, when you feel like no on can relate, someone can. You are never alone. The important thing is surrounding yourself with the right people when you need it. Sometimes you are surrounded by positive, loving people, but what you really need is someone who can relate to what you are going through.
As Oprah sums up, "Surround yourself that people who will lift you higher."
Love yourself, just as you are
Mom wrote a book on beating her depression, but ironically I don't think she was ever more depressed as when it was published.
I want to go back in time, hug her and tell her it is o.k. Just because you wrote a book on beating depression, faith, presence, healing and unconditional love, doesn't mean you have to be perfect.
I get it.
Life is an ongoing journey and you are perfect right where you are…even if it you aren't doing all that you know.
    "Do the best you can until you know better. Then when you know better, do better." Maya Angelou
I love this quote, I just think it needs one extra step – have self-compassion in the process. We all need to be a little kinder to ourselves, especially during times of challenge and change.
Be true to yourself and your passion and purpose in life
This may be the foundation for happiness and fulfillment in life.
We are all filled with things that make us want to get up in the morning – we just need to make sure we do them! There is no better feeling that having a sense of purpose in life. The important thing is to remember that your purpose may be ever evolving and it's good to re-evaluate, follow your intuition, and be true to you.
During Mom's post-cancer battle and recovery from the loss of her family members, she convinced my Dad to sell our house of 10 years and purchase a Georgian colonial mansion on one of our cities most prestigious streets.
This started what she deemed as her private hell. "The dark, negative energy that filled the air drained me from the first moment."
She said she could be in a good mood on her way home and feel terrible within minutes of walking into the back door.
I agree there was horrible energy in that house and it probably was haunted, like my mom claimed and the rumors lead to. But, I'm pretty sure it wasn't the house that caused her depression.
Until that point, she hadn't dealt with the tremendous losses she had suffered. She was going through the motions and appeared to be handling things well. But, she had major life stresses that she hadn't come to terms with yet. Not only had she lost her parents, two brothers and a part of herself to cancer, but she also lost her purpose in life. My parents sold their very successful real estate and roofing business after her cancer diagnosis and malpractice suit that followed.
Of course, her family was priority, but her business was her heart and soul, her passion. It gave her purpose and a sense of accomplishment.
After 4 years, we moved into "The Kingdom", as she called it. A beautiful home, filled with light, positive energy and surrounded by nature.
The house was amazing and the negative energy lifted when we moved, but her depression stuck around until she had a new sense of purpose and passion in her life.
You can move a million times or look for happiness in material things, but true joy, peace and love all lie within. Honoring your purpose and passion is part of being true to yourself.
Dream big, follow your passion, and never give up

One thing is for certain – when my Mom set her mind to something, it was going to happen. She taught herself real estate and like I mentioned, developed and ran a very successful real estate and roofing company.
She poured her heart, soul, time and energy into it.  I loved watching her flourish. I have so many wonderful memories in apartment buildings and rental homes she owned, in her office and with her employees.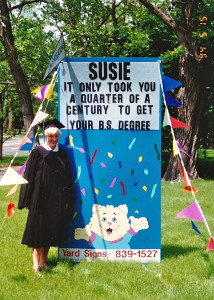 She proved she didn't need a college education to run a million dollar business, but she plugged away and completed her undergraduate degree 25 years have she first began.
She engulfed herself into learning through A Course in Miracles
, chronicled her spiritual journey and got the book published. This is not an easy accomplishment and something to take great pride in!
She also graduated with a Master in Spiritual Psychology from the University of Santa Monica where she traveled one weekend a month for 2 years from Indianapolis. She graduated months before her death.
She was in physical pain during the last year and even had to have fluid removed from her lungs while was across the country to complete her degree.  Even though, she had every reason to quit, she never gave up. She pursued and accomplished another dream.
Spread light, love and inspiration to those around you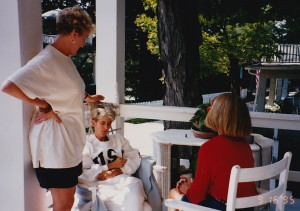 It's been over 20 years since Mom's spiritual journey and book publication, 15 since her graduation and death. Even though she is not here in the flesh, I am continually learning from her.
In the preface of her book she wrote, "I am eternally grateful for the opportunity I was given to heal myself and help others heal as well. Every word is written with complete joy and humility for it is impossible to forget that I am merely an instrument used to communicate an important message."
We all have different ways to share, inspire and help the world. Maybe it's by simply taking care of ourselves or maybe something greater. Either way, we all matter. We all make a difference. We all are the miracle.
I try to do my part by living the messages my Mom shares, not just writing about them.
By being true to myself and following my passion, which gives me purpose and fulfillment.
By connecting and learning from people around me.
By surrounding myself with people who encourage, support, love me unconditionally and lift me higher.
By having self-love and self-compassion always.
What about you?
Love,
Molly