Color Your Way to Calm, Creativity and Presence: A Mindfulness Tool for All Ages
|
Last week at a girls dinner we were chatting  about how hard it is to be at home and just sit, relax and do nothing. There is always something that could be done and the guilt often overpowers the real need to just be still.
Even a friend who has been sick and stuck in bed for a month couldn't relax and just enjoy binging on movies and magazines without the mommy guilt lingering around.
With the to-do lists never-ending, it can feel wasteful to just sit.  There is something about the need to be productive. The feeling of accomplishment is oh so desirable.
The to-do list is never going to stop. It will always be there. There is always one more thing you should get done. What you don't want to happen is that you have spent so much time worrying about productivity and crossing items off the list that you forget to enjoy the moment.
There are many deeper ways this conversation could have turned (saving that for another day), instead I shared this simple and fun idea that I am a little obsessed with at the moment.
Mindfulness coloring books.
It's the perfect solution to fulfill the need for productivity and accomplishment, yet it produces feelings of calm, creativity and presence.
Specifically, these  holiday cards, Peace. Joy. Color.: Celebrate the Season with 20 Tear-Out Coloring Cards
, have gotten me extra excited.
You can sit and relax, practice mindfulness, engage your creativity, do something kind for someone else and be productive all at one time! Talk about accomplishment!
Mindfulness coloring books are also wonderful for the whole family. I'm still working on my husband, but it is something even my 5th grade son (who isn't always open to things other than sports, video games or books) can enjoy.
I'm always impressed with his work, too! Don't you love that butterfly?
Fortunately, these books are not hard to find.  Follow this link to Amazon
and you will have many options.
Color Me Calm
is guided coloring book designed for harried adults.
They also have come out with Color Me Happy
, Color Me Stress-Free
and coming in February Color Me Fearless
.
I'm still trying to find my favorite book for the kids. They like when the pictures are not really detailed (I'll admit, me too!) You can check out this link
on Amazon for some options specifically for kids.
If you pop into your local bookstore, you should be able to find some, as well. Barnes & Nobles has plenty of options…this was a two-sided table specifically for coloring!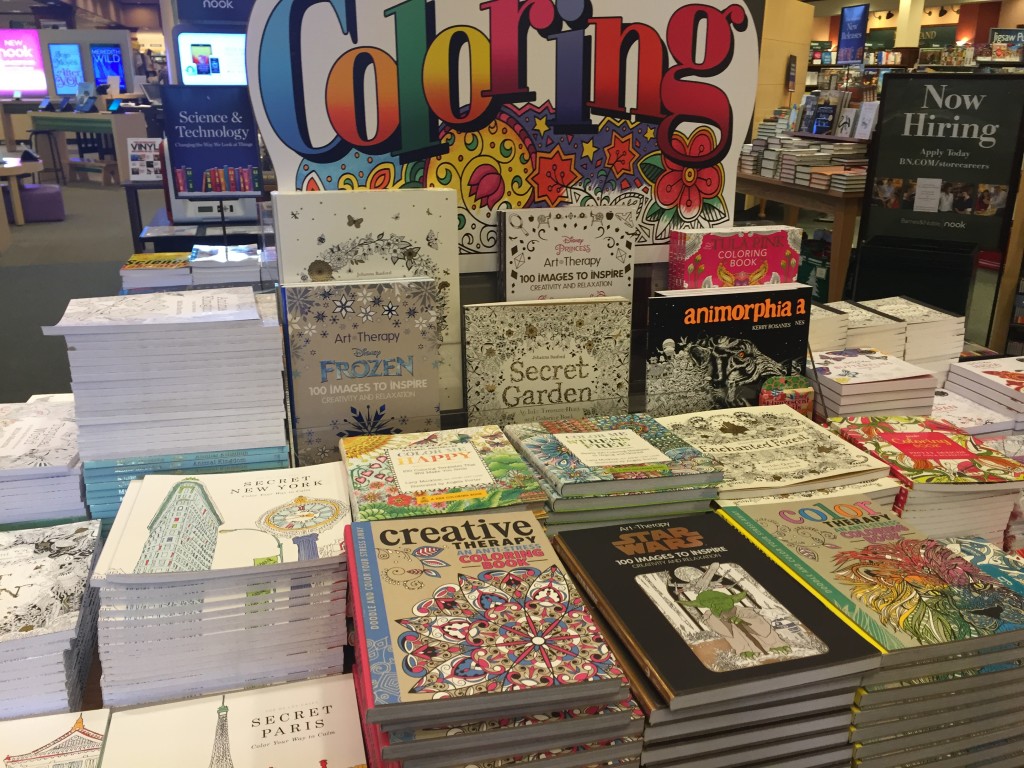 What a perfect gift idea…for kids, adults and for yourself!
Have you used these books? What do you think? Any favorites??
Happy Coloring!!
Love,
Molly
P.S. The Amazon links are affiliate links, which means the Amazon price will be the same for you, but a portion will go back to Love Well Live Well. An easy way to give and continue spreading love! xoxo