5 Ways to Foster Self-Love
|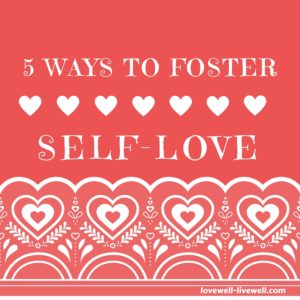 "Practicing self-love means learning how to trust ourselves, treat ourselves with respect, and to be kind and affectionate toward ourselves." –Brené Brown, Ph.D.
It's Valentine's Day weekend…love is in the air!
This holiday seems to either leave you filled with love or irritation. Or maybe a mix of both!  The pressure to plan an amazing romantic date, profess your love or buy the perfect gift often looms.
Instead of love, you may feel heartbreak, loneliness, guilt or disappointment. Or you may not care either way. You may be like my 7-year old and it is one of your favorite holidays. She is so excited and has been making cards and gifts for a month! She is my little love bug.
Last year, although flooded with love and many cards from my daughter, I was not feeling very loving. I shared this post on letting go of expectations on Valentine's Day and other holidays.
This year, I want to share how a small shift in focus can make you all around more positive, loving and without expectations not just during holidays, but all of the time!
The shift: focus on loving yourself.
When it comes down to it…loving yourself is really the core of your whole being.
"To love oneself is the beginning of a lifelong romance." – Oscar Wilde
No matter what your plans this weekend or your outlook on Valentine's Day, I hope you consider one of these 5 practices to encourage Self-Love. If not this weekend….bookmark for another time!
1. Appreciate Yourself: List 10 Things you Love about Yourself
When was the last time you stopped and wrote down all the things you like and appreciate about yourself? All too often, we just focus on the things we want to change about ourselves and forget about all of our wonderful strengths.
There's no better time than the present…right now, before you go on, grab a notebook or open the notes app on your phone and list 10 things you love about yourself….your positive qualities, your quirky traits, your strengths, your imperfections…anything! Also, don't feel like you have to stop at 10…keep going as long as you want!
This is a great activity to do with your kids, as well!
 2. Take a Quiz: How Compassionate are you to Yourself?
Part of self-love is being kind and compassionate towards ourselves.
All too often, instead of showing compassion like we would to a friend who is struggling, we beat ourselves up.This quiz can be an eye-opener….maybe you don't even realize you are being so hard on yourself. Awareness is the first step to change!
Try it here: How Self-Compassionate Are You?
It's only takes a few minutes! When you're done, feel free to browse around Dr. Neff's website…there are great resources.
"Instead of mercilessly judging and criticizing yourself for various inadequacies or shortcomings, self-compassion means you are kind and understanding when confronted with personal failings – after all, who ever said you were supposed to be perfect? – Kristen Neff, PhD
3. Practice a Loving Kindness Meditation
 A loving-kindness, or metta, meditation is one of the best ways to foster love in others, especially those you have bad feelings towards. But, it is also wonderful way to improve the love of yourself.
The meditative part is the repetition of 4 phrases….directed at yourself first. Then you can direct them towards others.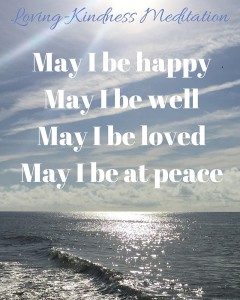 Common phrases are….
May I be well
May I be happy
May I be peaceful
May I be loved

May I be kind to myself
May I accept myself as I am
May I be at ease
May I be positive

May I be calm
May I be healthy
May I be safe
May I live with ease
You can interchange the phrases to whatever resonates with you.
Here is  one example of a guided loving-kindness meditation.
 4. Start a Gratitude Journal About Yourself
I am a big fan of gratitude journals, but until a friend gave me this journal, I never considered writing what I was grateful for about myself! Honestly, it was a little awkward at first, but once you get past that it is a great practice to have.
We need to be grateful for ourselves and our awesomeness!
 5. Write Yourself a Love Note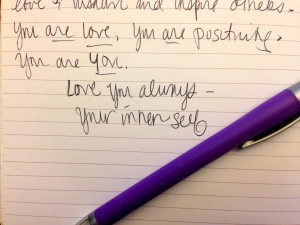 This is my favorite activity to work on a deep sense of self-love.
Who doesn't love to receive a love note? But, how empowering when the love is coming from YOU! You don't need anyone else to fill you up with love, you can just look inside.
This is a simple act to improve the connection with your inner self and help you love yourself fully and unconditionally.
Try it out! Don't be shy, you don't have to show anyone or even tell anyone…this is between you and your inner self. Take a deep breath and try to push away the criticism, the judgement, the shoulds, the guilt and the perfectionism.
Fill your letter with positivity, love and encouragement. This love note can be something you can come back to when you want to feel warm & fuzzy inside or are having a hard time and need a little encouragement.
**A little plug on the power of this activity. Last month in my break-out session at the wellness retreat I co-hosted, I asked participants to write themselves a love note.  Read one participant's empowering story on her experience with the activity!
I hope you give these tools a try yourself! You are worth it!
Lots of love, 
Molly