1 Random Act of Kindness, Lots of Love
|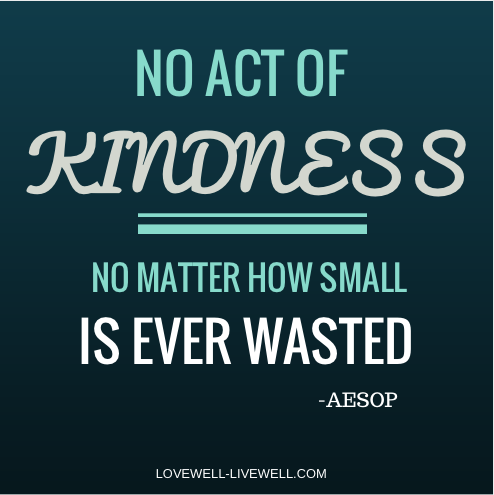 Have you ever been on the receiving end of a random act of kindness and left speechless?
That's how I found myself Sunday afternoon at the Children's Museum of Denver.
I was there visiting with my girls, feeling inspired every way we turned, but the Art Studio was our favorite.
My 7-year old, Caitlin, loves all types of art and was right at home. I was enjoying the rare opportunity to sit peacefully watching my girls color away. (Also remembering the power of presence….I snapped a photo and then put my phone away, not to be distracted!)
That's when I was caught off guard.
Another little girl who was also coloring at the table walked over and gave me the picture she just made.
"This is for you."
I  thanked her and commented on how thoughtful she was. Then I just sat there (frankly still a little dumbstruck) as my daughters finished coloring and she started working on another picture.
My daughters make me pictures almost daily, but never a complete stranger.
I was sitting there mulling over the kindness and feeling a little awkward.
Why is it that a random act of kindness can feel so strange?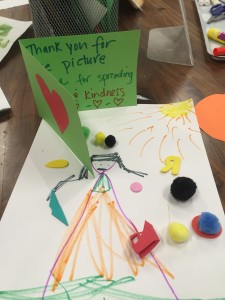 Maybe because, unfortunately, they are rare in the busy world we live in? I'm not sure, but it took me a few minutes before it hit me.
I should return the act of kindness with a simple thank you note for the sweet gesture. My girls thought it was a great idea and we agreed on a simple message.
"Thank you for the picture and for spreading love and kindness."
It was making my heart happy to be able to do something for her. (No surprise there since giving is a key component to happiness!)
But before I knew it – she was gone. A women and another little girl (maybe her mom and little sister?) came and they all quickly left the art room.
We couldn't find her again.
Caitlin remembers her outfit clearly…a pink jumpsuit with white flowers. She was probably 6, she thought.
If I could go back, I would change so many things….
I would ask her name (why didn't I even do that?!) Does it begin with R?
I would inquire more about her picture and ask about the details she glued on.
I would talk to her about how much her simple act of kindness meant to me.
I would tell her how amazing she is for spreading so much love and kindness in the world
and…
I would encourage her to never stop.
I would tell her mom (or whomever she was with) what she did and how sweet it was. I would praise her (in her presence) because so often the positive acts of kindness get lost and the times when our kids behave badly stand out.
She seemed like a loving soul and this is probably not out of the ordinary for her, but who knows?
Either way as parents you can never hear too many favorable things about your children.
And for children…the encouraging feedback is even more powerful.
I'm now back home in Boston and it would be far-fetched to find this little girl. Instead I thought I would share her story in hopes of spreading a little love and inspiration in her honor.
Because, after all,  it's the simple acts of love and kindness that make the world a better place.
If you have any have any stories about random acts of kindness that were especially inspiring please share in the comments section. Let's continue spreading love and kindness!
Love, 
Molly
P.S. Last week was National Random Acts of Kindness Day…here are a few articles for extra inspiration!