Have you Discovered Your Gift?
|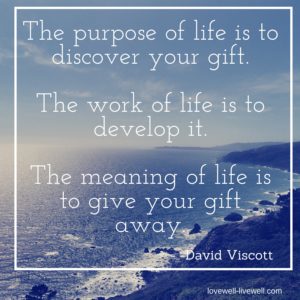 A few weeks ago my 7-year had her microphone in hand getting ready to sing a song she wrote. "Hi, I'm Caitlin Shrewsberry and today I'm going to be singing Dance Like Nobody's Listening" and then she went on with this inspirational talk about sharing your gifts with the world.
I wish I would have gotten it on tape or at least written it down because, of course, I loved it! Regardless, the message has still stuck with me.
In her eyes, she was just having fun playing with her friend & sister, but in reality she was, in fact, sharing her gift.
She loves to sing, she loves to write songs, she loves to color and spread positive messages. When she is doing those things, she is in a happy place. She is calm, yet energized. She gets in the flow. She is herself.
It's much easier for kids to do what they love. As adults we tend to either forget those things or push it aside because life gets in the way.
So, today, I'm wondering….
Have you discovered your gift — something you are not only good at, but something that gives you purpose and leaves you feeling fulfilled? Something you could do for hours and feel energized, not exhausted?
And more importantly, are you fostering your gift or pushing it aside to accomplish the daily demands of life?
Life can be hard and complicated and exhausting, at times. But, it is much simpler and happier, when you are sharing your gifts with the world.
I hope you are sharing your gifts and spreading a little happiness to the world!
Love, 
Molly