Celebrating the Memories of Loved Ones Through Kindness 
|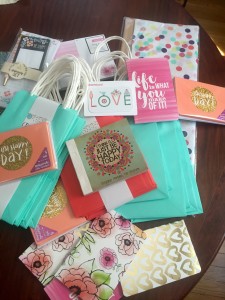 Today would have been my mom's 69th birthday.
My dad, sisters and I always like to do something in her honor in April…either on the date she died (April 2) or for her birthday.
Losing a loved one is never easy, and it leaves a hole in your heart that will never quite be filled. Or as my dad says, "Time does not heal all wounds."
But, we all agree that keeping her memory alive and honoring her makes it much easier!
We have done this a variety of ways over the past 16 years…I shared more about it 2 years ago in Loving, Remembering & Honoring Those We've Lost .
Last year, as I neared the age (40) when my mom was first diagnosed with cancer, suffered unimaginable losses, and a deep depression a result of it, I shared some ways she still inspires me (15 Years Later34: New Insights From My Mom's Life and Death.)
16 acts of kindness
This year in her memory, I thought it would be fun to do 16 acts of kindness for every year we have missed celebrating her birthday since she died. My mom loved to give. She always wanted to help people and would do whatever she could to make a difference (sometimes to a fault!)
The idea sparked in the dollar bin at Target a few weeks ago & I came home with the goodies in the picture above. The colors just make me happy, so I figured they would make someone else happy, too! I had lots of ideas of whom to give to, but didn't quite have a plan.
This morning as my husband headed out-of-town, he offered to do a random act of kindness to help me get to my 16. I told my dad and sisters and about it and they were excited to join in, as well.
So, I thought…why limit us to 16?!  Why not use this opportunity to not only honor my mom's memory, but spread as much love and kindness as possible throughout the weekend?
I love the fact that the more love, kindness and positive energy you put out there, the more it comes back to you! 
I was reminded of this after a failed attempt at an act of kindness this morning (did you know that is even possible?!!) and ended up being on the receiving end of a random act of kindness!
Remembering Inspires Happiness
Also, not coincidentally, this afternoon I came across this new post by Gretchen Rubin, "What's a Critical Habit to Happiness? Remembering the People we Miss Most." It's an interview with Allison Gilbert, author of the new book, "Passed and Present: Keeping Memories of Loved Ones Alive."
She says, "Taking steps to appropriately remember loved ones has been proven to be essential for healing.  Individuals who keep their loved one's memory alive almost always fare better emotionally than those who don't.  Who knew?! A critical habit for happiness is remembering the people we miss most."
I think we are on to something!
Want to Join in?
I hope you will consider joining in performing acts of kindness this weekend in honor of my mom and/or in memory of one of your loved ones!
I can't wait to share our stories…both funny and feel good, so far!  I hope you will share yours, also. Let's keep spreading love, kindness and inspiration!
Love,  
Molly