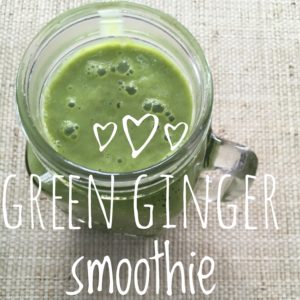 A nourishing and creamy green smoothie! 
I love green smoothies.
It's one of the things that propelled me into a more holistic lifestyle almost 5 years ago. In my attempt to eat cleaner, I knew I needed to boost my intake of greens and plant-based food intake.  Smoothies are a great tool to help fill your diet with fruits, vegetables and other valuable sources of nutrition.
Green smoothies can be a great kick-start to a healthier lifestyle and become a staple in your diet!
Any blender will do the trick, but the NutriBullet was what "taught" me how to make a smoothie with a combination of greens, fruit, liquid and a boost (like flax or chia seeds.) Very simple.
Even with my Vitamix,  I still find myself sticking to that same concept and just throwing whatever I have around in the blender for an easy breakfast or afternoon pick-me-up.
However, following recipes is a great way to get started and expand your options to include more nutritious components. My husband & kids also seem to love the smoothies much more when I follow recipes!
I'm excited to share this recipe with one of my new favorite add-ins: GINGER.
GINGER
Ginger has been around for centuries and is an integral ingredient in many recipes. I love it in Stir-Fry, but until I began experimenting, I never thought to add it to my smoothies. I'm so glad I did!
As much as I love it, I don't always have fresh ginger on hand when I need it. It can also be hard to blend completely and evenly. Depending on the blender you have, you may need to grate it before adding, which can be a bummer if you are tight on time.
Enter: Ginger Essential Oil 
Ginger essential oil has many health benefits including supporting healthy joint function, reducing inflammation, and aiding in digestion*. It also has high levels of antioxidants.
Just one drop and you have added a nutritious component to your smoothie! Very simple and also a time-saver!
GREEN GINGER SMOOTHIE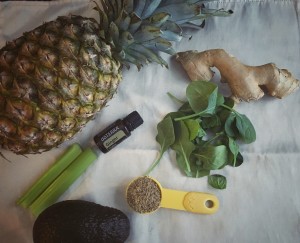 Ingredients: 
1 cup Coconut Milk
2 cups Spinach
1 cup Pineapple
1-2 Stalks Celery
1/4 Avocado
1-2inch Ginger or 1 drop Ginger Essential Oil 
1 tablespoon Flax Seed
1 cup Ice
Directions:
Rinse & prep fruits and veggies.
Combine all ingredients in a blender. Blend until smooth and creamy.  You can also wait to add the ginger essential oil to taste at the end. Just add 1 drop and stir.
Ginger is strong, so you want to be cautious and not use too much, whether using the fresh ginger or essential oil. If you are nervous or new to ginger, try using a toothpick to soak up one drop of the essential oil and then swirl the flavor into your blended smoothie.
Substitute Options
Don't have everything on the ingredient list, no worries! Try one of these substitutes.
Coconut Milk – Coconut water, almond milk or another dairy-free milk option
Spinach – Kale or a combo of spinach and kale
Pineapple – Orange, green apple or blueberries
Celery – Cucumber or omit
Avocado – 1 banana  (These make the smoothie creamy)
Flax Seed – Chia seed, Hemp seed
Ice – frozen fruit/spinach
ENJOY!! 
Love, 
Molly
P.S. Not all essential oils are safe to ingest. I trust doTERRA's Certified Therapeutic Grade essential oils because the oils are beyond organic, they are Certified Therapeutic Grade with no fillers, artificial ingredients, or contaminants of any kind.
*These statements have not been evaluated by the Food and Drug Administration. This product is not intended to diagnose, treat, cure, or prevent any disease.