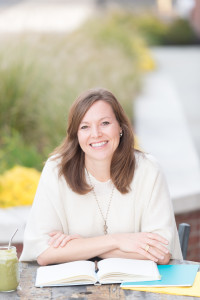 Molly Shrewsberry is a certified health and wellness coach and the author and founder of Love Well Live Well, a blog platform focused on the role of self-love and its impact on overall health and wellness.
Molly's work is devoted to helping individuals find higher levels of fulfillment, balance, satisfaction and wellness in their lives through a purposeful focus on:
Holistic well-being
Kindness and self-compassion
Self-prioritization
Mindfulness
With over 15 years' experience working in the wellness field, Molly has dedicated her professional career to promoting and inspiring positivity, health, and wellness; she has garnered distinctive proficiency in the areas of corporate wellness, public health, rural heath outreach, and healthcare marketing.
Molly was trained and certified as a health and wellness coach through Wellcoaches, a program endorsed by strategic partner the American College of Sports Medicine. Molly received her Bachelor of Science in Kinesiology with an Exercise Science Major and Psychology Minor, a Master of Science in Physical Education and a Master of Public Health with an emphasis on Behavioral Sciences from Indiana University.
In addition to Molly's educational credentials and experience, her roles as mother of 4, NBA coach's wife, sister, daughter and friend significantly influence and shape her coaching, most especially her focus within the self-love realm.