Is there a relationship between love and wellness?
I had the desire to start a wellness-related blog for several years before I actually started it. The idea kept creeping into my daily thoughts more and more and my final inspiration to just go for it came from my youngest sister. She was voicing her frustration that I didn't know how to love myself as much as I love all of my family.
It really made me think about the role that love (or lack thereof) plays in wellness.
A few days later, on Valentine's Day, with lots of love in the air, I decided to look at a list of potential blog names I had accumulated over the years. And staring boldly at me was
Love Well Live Well. 
After the conversation with my sister, which also included encouragement to focus on myself, I decided there really was no time better than the present.  And so it began…a site dedicated to having a healthy mind, body and soul, with the core being LOVE.
But, it wasn't until a few years later when I decided to dedicate a year to love, that I truly understood how powerful and transformational love can be in regards to our wellness.
I realized, yes, there is an amazing relationship between love and wellness.
LOVE does play a crucial role in wellness.
Love is your relationship with yourself, how you treat others, and really view life in general.
Love is the foundation for behavior change. Love is the foundation for healthy relationships.  Love is the foundation for positivity. Love is the foundation for living a fulfilling and happy life.
In what started out as a quest to add more love into my life, ended with a completely different outlook on life. I realized that love, like wellness, is made up of multiple components. Incorporating these into my life has resulted in bringing more love, positivity and authenticity to my marriage, parenting, relationships and encounters with strangers.
Love is….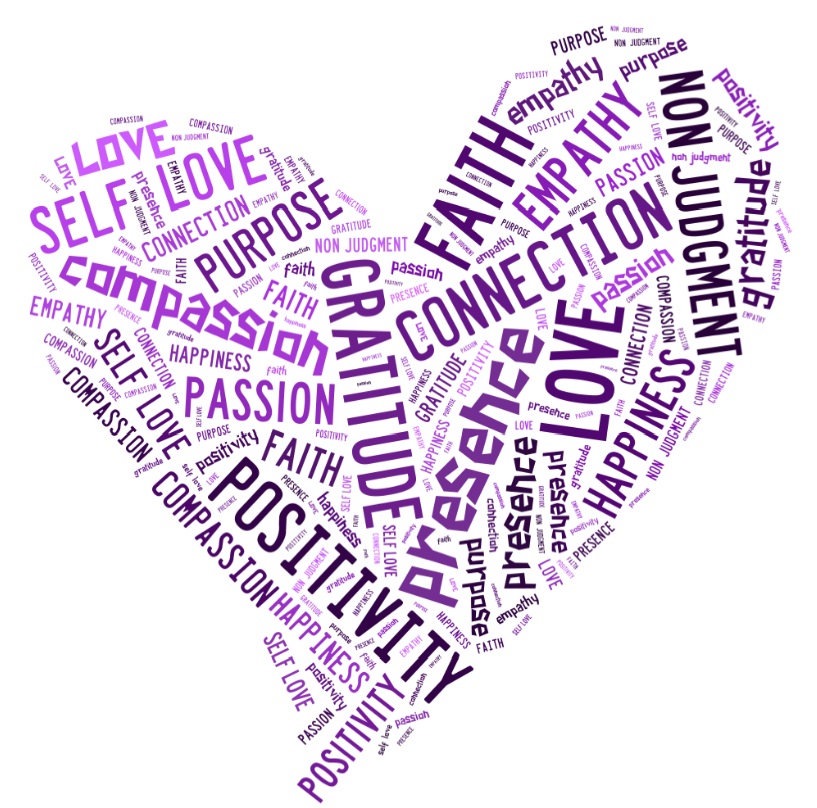 Gratitude
Positivity
Kindness
Compassion
Connection
Non-judgment
Acceptance
Fulfillment
Hope
Faith
Peace
Humility
Empathy
Honesty
Authenticity
Forgiveness
Giving & Receiving
Mindfulness & Presence
Living with Purpose
Following Your Passion
Self care, self-compassion, self-kindness & self-love!
Health and happiness begin with loving yourself unconditionally…always.
This means you won't have the need to seek outside of yourself to feel love or happiness, because it all lies within you. You have the power to create your own path of well-being and your ideal life.
Self-love is often the missing ingredient when change is a struggle or you feel overwhelmed, unhappy or unfulfilled.
When you practice gratitude, presence, self-compassion, have faith and a sense of purpose in life, things like exercise, eating healthy, stress management, positive relationships, and happiness all come a little more naturally.
Loving yourself makes it easier to prioritize your wellness and more importantly forgive yourself for mistakes you have made.
True unconditional love of your family members, significant others, children, and friends can transform relationships.
Even treating strangers with love can just make life more enjoyable!
It's empowering to know that YOU get to make the decision on how you live each day.
If you want to learn more about living life with love and feeling your best, you are at the right place…and I am so glad you are here!
Here are a few posts on love (more to come!)…
Simplify Your Goals for 2014: Choose One Word
Loving Yourself
The Key Ingredient to Behavior Change
Loving Others
Finding Compassion in the Midst of a Toddler Tantrum
Loving, Remembering & Honoring Those We've Lost
My Law of Life: A Love Letter From A Troubled Teen
7 Tips to Make People Feel Good
Love, Travel, Memories & Inspiration
Marriage Equality for Everyone: Love is Love
Parenting with Love
One Simple (But Effective!) Positive Parenting Tip
Lessons on Love From My 4-year Old
Reflections from Pregnancy: 5 Wellness Tips for Everyone