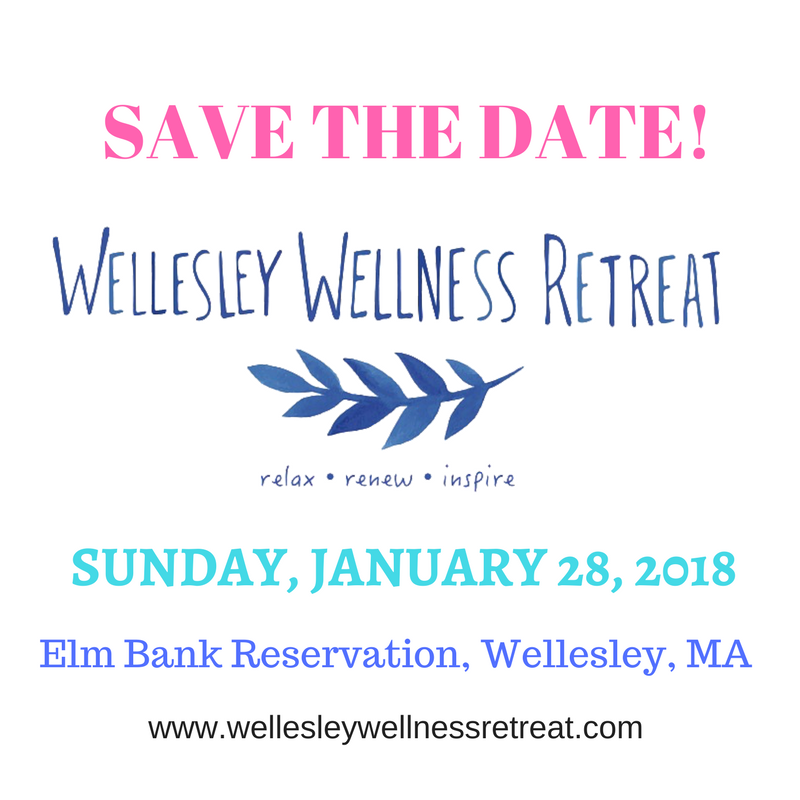 Smart Self-Care for Women 
I'm thrilled to partner with 2 other local moms in the wellness field,
Stacy Kennedy & Cory Halaby
, to offer the Wellesley Wellness Retreat for a 3rd year!
2017 Wellesley Wellness Retreat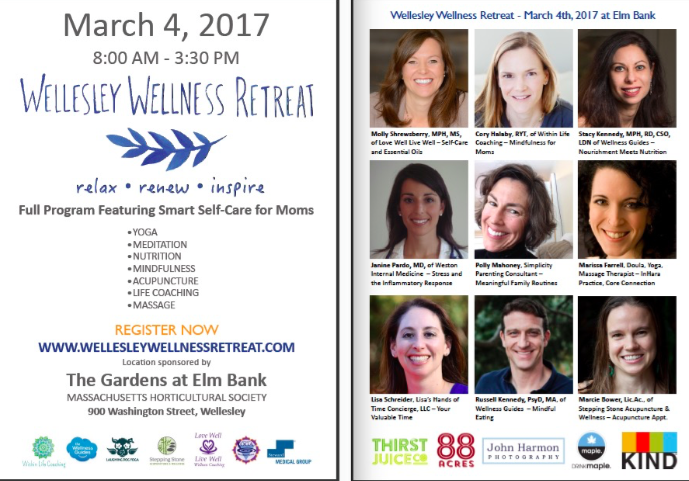 I share more about the day in this quick video, along with a positive message & reminders of self-care!
You can read more here on how my own motherhood, self-love and wellness journey led to my motivation on creating this event.
2016 Wellesley Wellness Retreat
We have much gratitude for all the women and sponsors that contributed to the success of the first annual Wellesley Wellness Retreat held on January 23, 2016.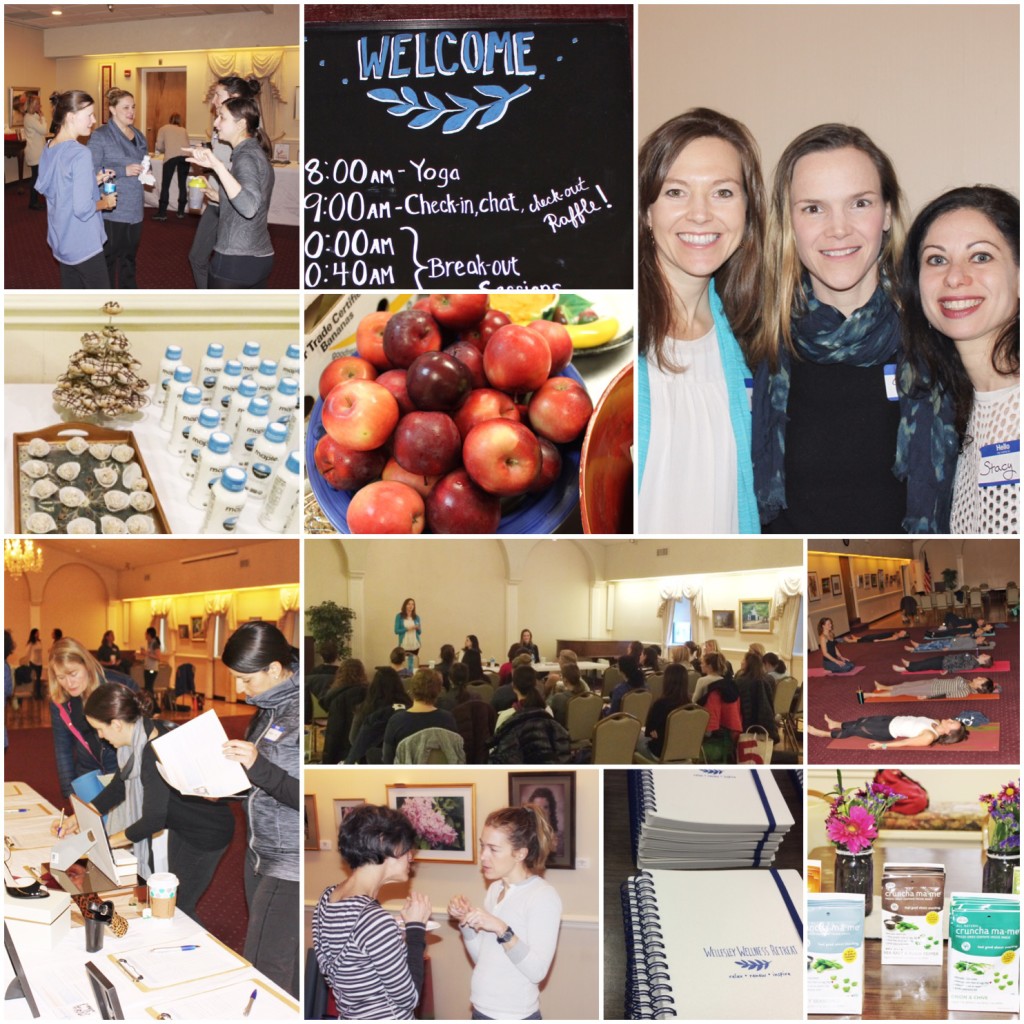 What 2016 Participants are saying…
"Such a great event. I was introduced to so many useful ideas that will improve both my day-to-day life and my overall well-being."

"I loved spending the morning with other like-minded moms interested in wellness issues."

"How great to join other women also trying to break out of the stress cycle!  Thank you!"

"A 'must-do' for any mother trying to be her best self and do the best for her family." ​

"More than 'taking time,' this felt like a tool for MAKING time by becoming more mindful and compassionate towards ourselves."

"Really enjoyed it! A great idea, a wonderful start to what I think could be an excellent annual event for Wellesley! Nutrition session was the best. So, so informative."

"This was an amazing event. It was much needed and a reminder to all moms that they need to take the time for self-care and nurturing."

"Great all around!"

"Wonderful community event supporting mothers and healthy families."

"The Wellesley Wellness Retreat was the perfect respite for 4 hours on a Saturday morning. Mothering/parenting is hard business until you have the compassion tools and community to help you. This retreat provided them all."

"The Wellesley Wellness Retreat is a gift for all of us. This event was so helpful and healthy!"
Some media from 2016….
Post-Retreat:  Wellesley Community Center Hosts Wellness Retreat
Pre-Retreat: Wellesley Community Center Sponsors Retreat for Wellesley Mothers, Friends
                       Wellesley Wellness Retreat aims to give local moms a break
                      Wellesley Wellness Retreat: A Half Day Retreat for Moms
Holiday Guest Posts on HappyHealthyKids.Com
Holiday Goal #1: Find Authentic Peace, Love and Joy This Season  by Cory Halaby
Holiday Goal #2: Fill up on Feel-Good Foods All Season Long  by Stacy Kennedy
Holiday Goal #3: Be Kinder to Yourself by Molly Shrewsberry
The First Annual Wellesley Wellness Retreat
January 23, 2016
8:00 AM – 1:00 PM
Wellesley Community Center
219 Washington Street
Wellesley, MA
A half day retreat for moms offering self-nurturing strategies for wholehearted living and vibrant good health.
Yoga
Meditation
Nutrition
Mindfulness
Fitness
Reiki
Life Coaching
We've got strategies to embed that kindness in your mind, body and spirit. Come experience mom-focused mindfulness, yoga, nutrition, life coaching, Reiki and more. You'll learn positive habits that can fit seamlessly into your life, giving you less "to-do" and more to enjoy.
Here's the schedule:
8:00 – 9:00 AM – Optional all-levels yoga class, free with registration. Cory Halaby will lead a nurturing flow so you can start the day relaxed, renewed and inspired. She'll teach techniques to help you get the results you crave from any exercise program. Come early and (re)treat yourself.
9:00 – 10:00 AM – Welcome and group presentation on Self Nurturing Strategies from Molly, Cory and Stacy. We'll cover mind, body and spirit with guided meditation, a truly nourishing approach to food, and the profound importance of a mother's love for herself.
10:00 – 11:45 AM – Small group breakout sessions. (details below)
Love Well Live Well with Molly Shrewsberry – Love yourself. Be yourself. Become the mother you want to be.
Nourishment Meets Nutrition with Stacy Kennedy – Get answers about what to eat, how to keep it simple and get to the heart of good health and wellness.
Mindfulness for Moms with Cory Halaby – Learn simple practices to keep you calm, kind, centered and effective.
12:00 – 1:00 PM – Where self-nurturing strategies meet real life. Community and panel discussion with Q & A.
We won't be serving lunch, but we will have delicious, healthy snacks on offer.
AFTERNOON APPOINTMENTS 1:30 – 3:30 PM
Upon registration, you'll have the chance to reserve limited one-on-one appointments for individual wellness coaching with Stacy, Molly or Cory as well as Reiki and chair massage. 
Visit Wellesley Wellness Retreat for more information!