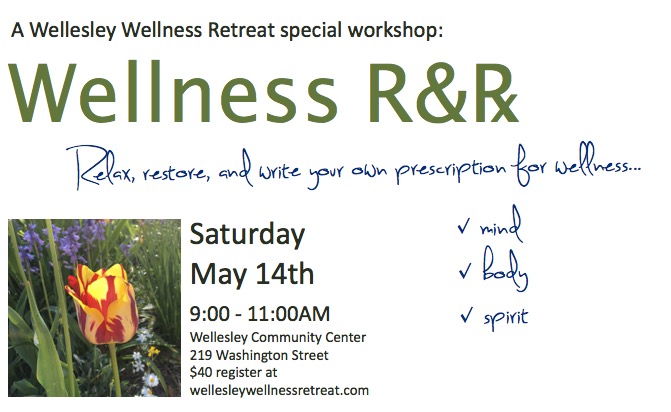 The next Wellesley Wellness Retreat date has been set….Saturday, January 21, 2017!
Until then, we have a special mini-retreat/workshop designed to help women relax, restore AND go home with their own wellness prescription. It will be a combination of yoga, meditation, introspection and small group conversations.
You will have a chance explore your wellness from a holistic perspective and leave with doable action steps. It's a perfect opportunity to get rejuvenated this spring with friends old and new!
Relax, restore, renew and craft your own prescription for wellness 
Together, we'll move through some accessible, all-levels yoga and drop into stillness, guided meditation and reflection.
Then we'll work in small groups to assess your current sense of wellbeing in mind, body and spirit. Molly, Cory and Stacy will help you clarify your big goals, and find small, doable steps to get you headed in the right direction.
Ask your questions about nutrition, exercise, mindfulness and self-care. Consider choices that support your overall wellbeing and also fit your personality, priorities and lifestyle. Write them down.
With a personalized Wellness ℞ in hand, you'll leave feeling informed, inspired and ready to make a few specific small changes. Those little steps are the best way to create big, positive shifts in your life.
Find out more on the Wellesley Wellness Retreat website.
Hope you can join! If you missed last year's retreat, you can read all about it here!
14 Reasons You Should Join Us on the 14th! 
Do any of these resonate with you?
The idea of 2-hours just for myself sounds amazing!
I love the support of other women and feel inspired by connection.
I am looking for a quick process for calming down and staying centered amongst the chaos.
I want to make changes to my wellness, but really don't where to begin.
I never take time to stop and think about my needs and desires.
I would love to have access to wellness experts to answer my questions.
I attended the Wellesley Wellness Retreat in January and love the retreat experience.

I always have an afternoon slump and would love to know a quick pick me-up that isn't caffeine.
I often beat myself up and would love some tips on being more compassionate with myself.
I need to make changes with my eating habits, but feel overwhelmed with all the nutrition info.
I want to prioritize my self-care and this is a wonderful opportunity to put myself first.
I'm curious about meditation and how it can impact my life. 
Change works best for me if it fits my style, my life and my interests.
I would love to come away with a simple doable action plan to make changes in my wellness. 
  If so, we hope you will join us on the 14th!