Positive Energy. Supportive Environment. Accountability. Fun!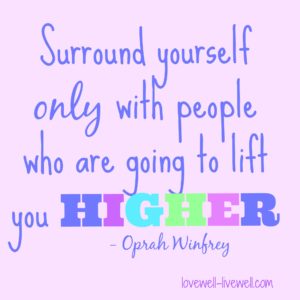 Surrounding yourself with people who believe in you, focus on your strengths, provide support and truly want to see you succeed is one of the most important things you can do for your wellbeing and success.
That is one of the goals of my group coaching courses…to provide a positive environment surrounded by people who lift you higher.
In this powerful group experience, you will be led by a certified health and wellness coach and encouraged by other like-minded people dedicated to improving their wellness.
Are you ready to fully commit to yourself and your wellbeing?
Each week will be centered around a wellness-related theme, including self-compassion, prioritization, energy, balance, nutrition, exercise, inner peace, mindfulness, finding passion or any other topics that interest the group!
What is included:
Opportunities for Self-discovery 

Wellness Assessment: to help gain self-awareness, insights and a sense of your priorities before the group coaching session begins.
Introspective Activities: YOU are the key to living authentically & feeling your best. These exercises will help you search inside.

Concrete Plan to Reach your Goals

Wellness Vision: You will create your own personal wellness vision.
SMART Goals: Achievable action steps will be set to help you reach your goals.

Individual Coaching Sessions

30-minute individual coaching session prior to the first class.
1-hour individual coaching session during the program.

Support and Accountability

Unlimited email support 
Private FB group to share resources and for extra support and accountability.

Infinite Positive Energy, Inspiration & Love! 

Each week you are guaranteed to be in a positive, loving and supportive environment with the attention on you and your wellness.
You will be encouraged to focus on your strengths, reach any goal you envision, reframe negatives into learning experiences, and love yourself unconditionally.
Why join a group:
The group setting allows for a powerful sense of connection, authenticity, accountability, positive energy and fun!
It's more cost-efficient than individual coaching with many of the benefits!
Several Group Options:
Attend a local class (Wellesley, MA) – click here for info on a wellness group for women!
Join a Tele-Group by phone
Friends, Wellness & Wine: What better way to take time for yourself and your wellness than with your friends!  Gather a group of people who also want feel their best, block off 6-12 sessions, rotate homes, bring wine, and I will come to you! Be prepared to have fun, be inspired and make lasting changes!
Worksite Wellness: There is no better incentive to give your best at work than when you know your employer values you and your wellbeing. I can come to your worksite and offer a lunchtime course to your employees, you reap the benefits!